These are Street Fashion lines, or lines focused on the latest street fashion. The 1st Edition, also known as Cool Bratz, brings out the core four's individual style with an urban flavor. The outfits and art reflect what was popular at the time of release: beanies, headbands, headscarves, cropped tops, baggy pants, sketchers-style sneakers, and chunky platforms. In contrast to rival brand Barbie's "runway vibe", Bratz 1st Edition was meant to show what teen girls were "really wearing". This line was released in 2001, released in a Lil' Bratz version, re-released in 2005 with updated artwork, and re-released in 2021 for Bratz's 20th Anniversary with new face designs. The prototypes are also found on this page. The outfits were initially conceptualized by Carter Bryant but evolved with other designers and team members on board with MGA Entertainment. The prototype slogan was initially "The Cool Girls In School!"[1]. Eventually, it evolved into "The Girls With A Passion For Fashion!".
Included Here:
Prototypes (1998-2000)
1st Edition (2001)
1st Edition Fashion Packs (2001)
Cool Bratz (2001) (Shares the same concept and outfits as 1st Edition)
Lil' Bratz 1st Edition (2002) (Shares the same outfits and concept as 1st Edition)
1st Edition Re-Release (2005) (The exact same 1st Edition released again)
20 Yearz Anniversary Re-release (2021)(The exact same 1st Edition released again with new screening and art)
Dolls
2001 1st Edition/Cool Bratz/Tomy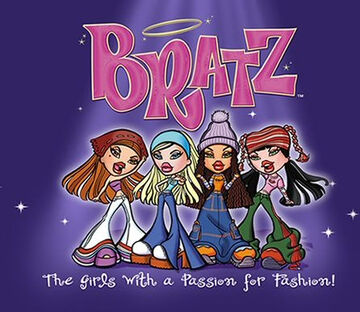 Best Friends Never Looked This Good! -"The Bratz Pack" Create Over 20 Different Funky Fashion Styles!
Characters:
1st Edition and Cool Bratz comes with:
Hairbrush
2 Pairs of Snap-on Shoes
Bratzpack Backpack
Hair Accessory
2 Fashion Tops
2 Fashion Bottoms
Plush & Stuffed Toys
Characters:
2002 Lil' Bratz 1st Edition
Characters:
Lil' Bratz
2 Fashion Tops
2 Fashion Bottoms
2 Pairs of Snap-On shoes
Trivia
Lil' Bratz's 2nd Edition also comes with 1st Edition fashions. They are found on the

Flaunt It!

page.
More Lil' Bratz Editions can be found at

Lil' Bratz Editions

.
2005 Original Edition Re-Release
All Four original Edition Bratz Together 4 the 1st time!
Characters:
Original Edition Re-Release comes with:
Hairbrush
2 Pairs of Snap-on Shoes
Bratzpack Backpack
Hair Accessory
2 Fashion Tops
2 Fashion Bottoms
2021 20 Yearz Anniversary Re-Release
References
↑

You Don't Own Me: How Mattel V. MGA Entertainment Exposed Barbie's Dark Side